Maybe some of you people know that I've putted on the tiered spender on the forum from Aeriagames.
I will be doing this each time when there will be a new Tiered Spender or when there is a new Crysl Altar.
So you guys, dont have to go to the aeriagames site anymore. And just can check it out here!

But to get to the point, how do you use the tiered spender? Let me explain.
Step 1: Where can I find the tiered spender?

Step 2: How does it look like?
Step 3: How does it work?
When you spend AP on the website of Aeriagames or spend AP ingame on Eden Eternal in the Item Mall. The Tiered Spender will be getting a more blue line. This means that the tiered spender is filling up. This way you can see how your reward progress go.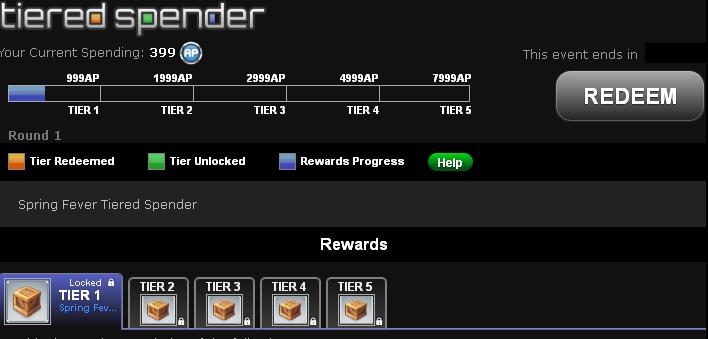 Step 4: How can I redeem the items in the Tiered Spender?
That's not hard to do, when you reach over the line
'999AP'
the bar will turn green.
And the 'REDEEM' button and the 'TIER 1' will turn green to.
The only thing you have to do it press on 'REDEEM'
Step 5: Choose your item!

Now you can choose from the following items in the 'TIER 1'-box.
When you've selected on your the reward you've picked. You will pres 'OK' and the item will be delivered in your 'Item Mall' on Eden Eternal.
Will be received here.
When you've redeemed the items while you're logged in to Eden Eternal, you may want to re-log. Because it is possible that you won't receive them directly. But a re-log will do the trick!
Step 6: How can I see what I've redeemed?
When you have redeemed something, the 'TIER 1' will turn into orange and the '999AP' will turn into orange to. The 'REDEEM' button will turn back into grey, this will turn green again when you can redeem something again. Wich will be on '1999AP'.
I hope it was useful ladies and gents.


Dont know how to use the Crystal Altar?!
Check out the guide of
iMinnie here